The basic idea of having balanced Scorecard Rating is that complex issues need to be adressed and evaluated. Therefore the a broad overview and specific context is requried.
The Book "Balanced Scorecard" is a great ressource for gathering detailed information.
Using the Framework of Balanced Scorecard, the Vision and Strategy gathered from four clusters:
Financial
Customer
Internal Business Process
Learning and Growth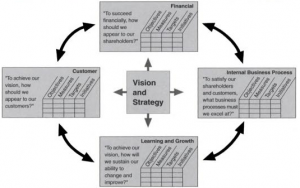 The overview of "Vision and Strategy" for Balanced Scorecard.
The four Clusters "Finance, internal Business Processes, Customer and Learning and Growth" are evaluted by the Factors:
Objectices
Measures
Targets
Initiatives
Practically, the Balanced Scorecard can be seen as an integrated Projectplan or Measurementplan. In the Most basic Case, this Plan is structured in the form of "Task, Responsible, Deadline", grouped into Milestones.
Management using the Score-Card Method is a systematic and integrated approach.
Clarification and translating the company or project vision
Communicate and link objectives and related measures
Planning, implementation of targets and goals in order to align strategic initiatives
Strategic Feedback and Corporate learning
Implementing the balanced scorecard management
In order to align these Steps and Goals into a Strategy, the big picture has to be maintained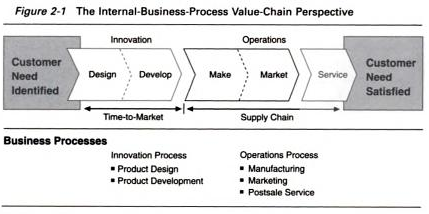 The Grouping of Innovation Process and Operation Process is a key aspect in keeping the overview. So Measuring Performance is critical